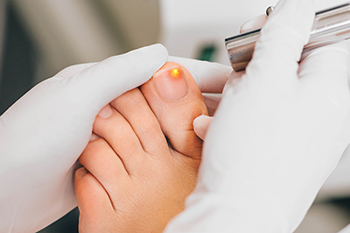 Fungal nail infections, or onychomycosis, affect a significant portion of the population, particularly the toenails. Characterized by discoloration, thickening, and sometimes detachment of the nail from its bed, these infections stem from fungi that invade through tiny breaks in the nail or surrounding skin. Anyone can contract this type of infection, but they are especially common in individuals with certain health conditions, such as diabetes, which predispose them to recurrence. Diagnosis should be professionally confirmed, and while treatments, mainly oral antifungal medications, are available, they can be lengthy and sometimes ineffective, with infections taking months to resolve. Notably, even after successful treatment, fungal nail infections can recur, particularly in people with chronic medical conditions that compromise the immune system or circulation. To manage and prevent recurrence, especially if you are at higher risk for these infections, it is suggested that you make an appointment with a podiatrist for comprehensive treatment and continual monitoring of this condition.
For more information about treatment, contact Judson Siegel, DPM of Assabet Family Podiatry. Our doctor can provide the care you need to keep you pain-free and on your feet.
Toenail Fungus Treatment
Toenail fungus is a condition that affects many people and can be especially hard to get rid of. Fortunately, there are several methods to go about treating and avoiding it.
Antifungals & Deterrence
Oral antifungal medicine has been shown to be effective in many cases. It is important to consult with a podiatrist to determine the proper regiment for you, or potentially explore other options.
Applying foot powder on the feet and shoes helps keep the feet free of moisture and sweat.
Sandals or open toed shoes – Wearing these will allow air movement and help keep feet dry. They also expose your feet to light, which fungus cannot tolerate. Socks with moisture wicking material also help as well.
If you have any questions please feel free to contact our offices located in Plainville, Marlborough, and Somerset, MA . We offer the newest diagnostic tools and technology to treat your foot and ankle needs.
Read more about Toenail Fungus