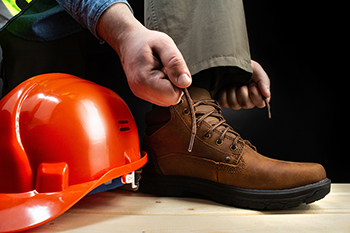 When it comes to your workday, the right pair of appropriate work shoes can make all the difference. Spending hours on your feet can be grueling, especially if you're not wearing the proper footwear. Ill-fitting or worn-out shoes can lead to discomfort and even foot problems that linger long after you've left the workplace. Particular caution is needed with pointed-toe or high-heeled shoes, as they can create a host of issues. Lack of arch support, inadequate cushioning, and non-shock-absorbing shoes also contribute to workplace foot problems. Shoes that are too loose or too tight are equally problematic. For labor-intensive roles, like construction, more durable work shoes are essential. Foot pain and disorders often arise due to prolonged standing. Your feet are built for movement, so immobilization can lead to joint misalignment and inflammation. Ventilation is also key. In hot environments, non-porous uppers can lead to sweaty feet and fungal infections. Business casual or dress shoes require consideration of any foot issues. Non-slip outsoles are vital if you're frequently on the move at work, such as may be experienced by restaurant or hospital workers. If you are experiencing foot, heel, or ankle pain as a result of working on your feet for long periods, it is suggested that you consult a podiatrist for an exam and treatment options.
While working on the feet, it is important to take the proper care of them. For more information about working on your feet, contact Judson Siegel, DPM from Assabet Family Podiatry. Our doctor will treat your foot and ankle needs.
Working on Your Feet
Standing on your feet for long periods of time can cause stress and pain in your feet. Your whole body may experience change in terms of posture, back pain, bunions, callouses and or plantar warts. There are ways to avoid these conditions with proper foot care, smart choices and correct posture.
Positive Changes
Negative heeled shoe – Choosing this shoe type places the heel slightly lower than the ball of the foot. These are great for overall foot health. Find shoes that fit you correctly.
Go barefoot – Our feet were not designed to be enclosed for all hours of the day. Try to periodically expose your feet to air.
Eliminate Pain
Foot Exercises – Performing simple exercises, incorporating yoga and doing stretches are beneficial. This will allow increased blood flow to the area and muscles of the foot.
Achilles tendon – Stretching the foot out flat on the floor will relax the calf muscles and tendon. These exercises can be performed almost anywhere. Make sure you add these exercises to your daily regimen. 
With a little bit of this information and knowing more about foot health, you will notice changes. Foot stretches and proper footwear will help with pain and prevent further issues.
If you have any questions please feel free to contact our offices located in Plainville, Marlborough, and Somerset, MA . We offer the newest diagnostic and treatment technologies for all your foot and ankle needs.
Read more about Working on Your Feet